Why do I need a listing agent?
For many, a home is one of the most valuable assets in their portfolio. It is vitally important to choose professionals with the expertise to streamline the process, prepare the home, significantly market to the most potential buyers, calendar important milestones, and negotiate thoroughly. A home sale requires Realtors® that can conduct and orchestrate the constant dance of timing, negotiation, documentation, vetting, and scheduling.
When representing a buyer, we are legally committed to acting as your fiduciary, which includes but is not limited to:
adhering to The Realtor® Code of Ethics
negotiating the most favorable terms on your behalf
proactively anticipating and addressing problems
protecting your confidentiality
providing all documentation and information to which you are legally entitled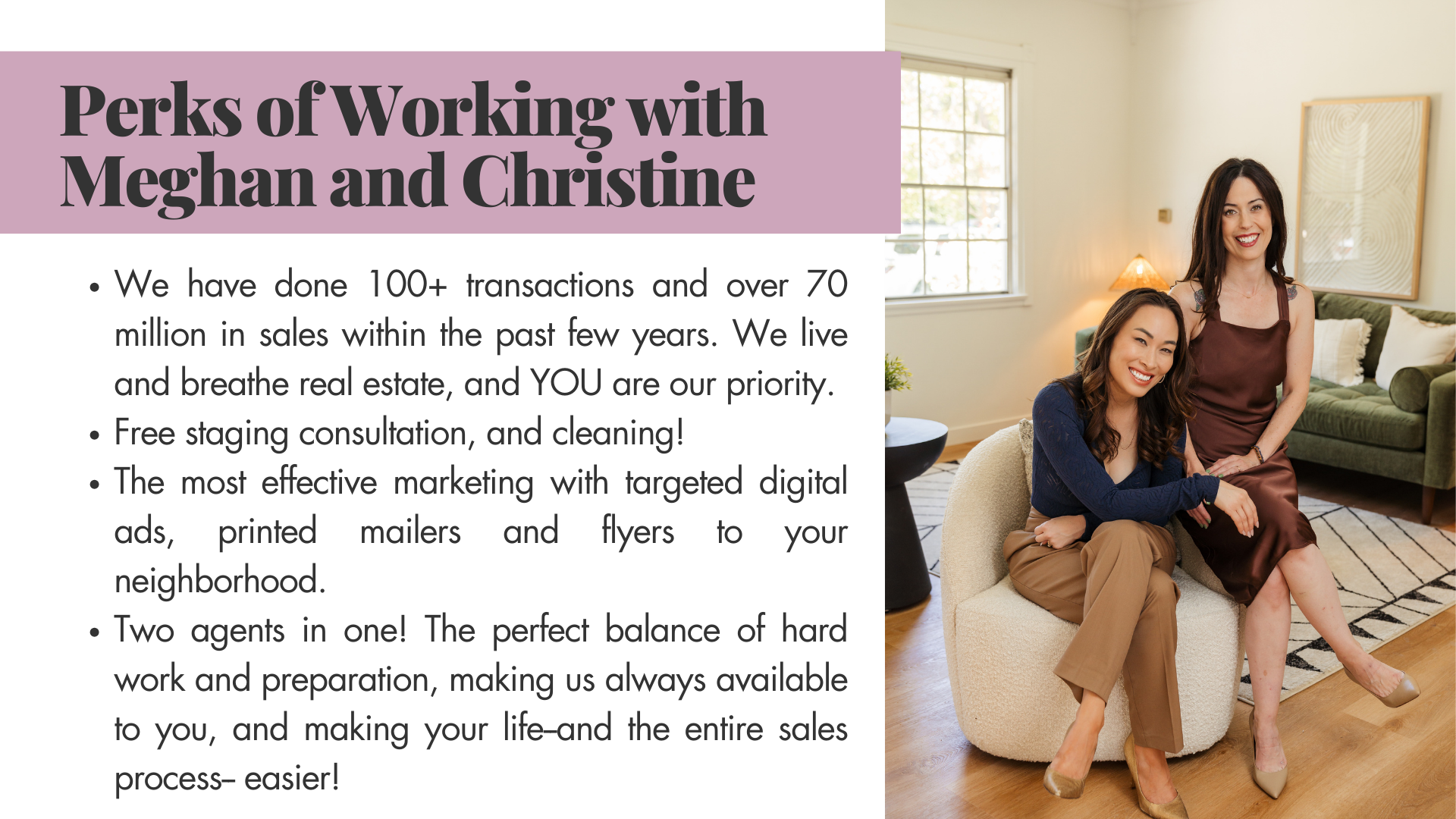 Simultaneous Selling and Buying
One of the biggest hurdles for sellers is determining the path and timeline to their next home. Meghan and Christine specialize in navigating this transition. Questions arise, such as: Which comes first; the new home, or the sale of the current one? Do I buy/sell simultaneously? What are the tax implications of a home sale, whether investment or personal? What is required to qualify for a new mortgage? Should I rent for a while? How can I smoothly relocate to another city/state/country?
Here are just a few sale options we've employed in the past:
Remain in possession of the home you sell as a short-term tenant after the new buyer owns it.
Write a purchase offer contingent on selling your current home. Pulling off this option will largely depend on how much competition you are against on buying that particular home.
Obtain a bridge loan. A bridge loan is a short-term loan designed to front you with the money to secure your purchase while you wait for the transaction on your old home to close sale.